Regular price
Sale price
$150.00
Unit price
per
Sale
Sold out
Product Details

Material: Sterling Silver
Coating: White Rhodium
Pendant: 0.80 inch
Chain: Included
- Sterling Silver, Cable Chain, 1.5mm, 18"
SHARE
View full details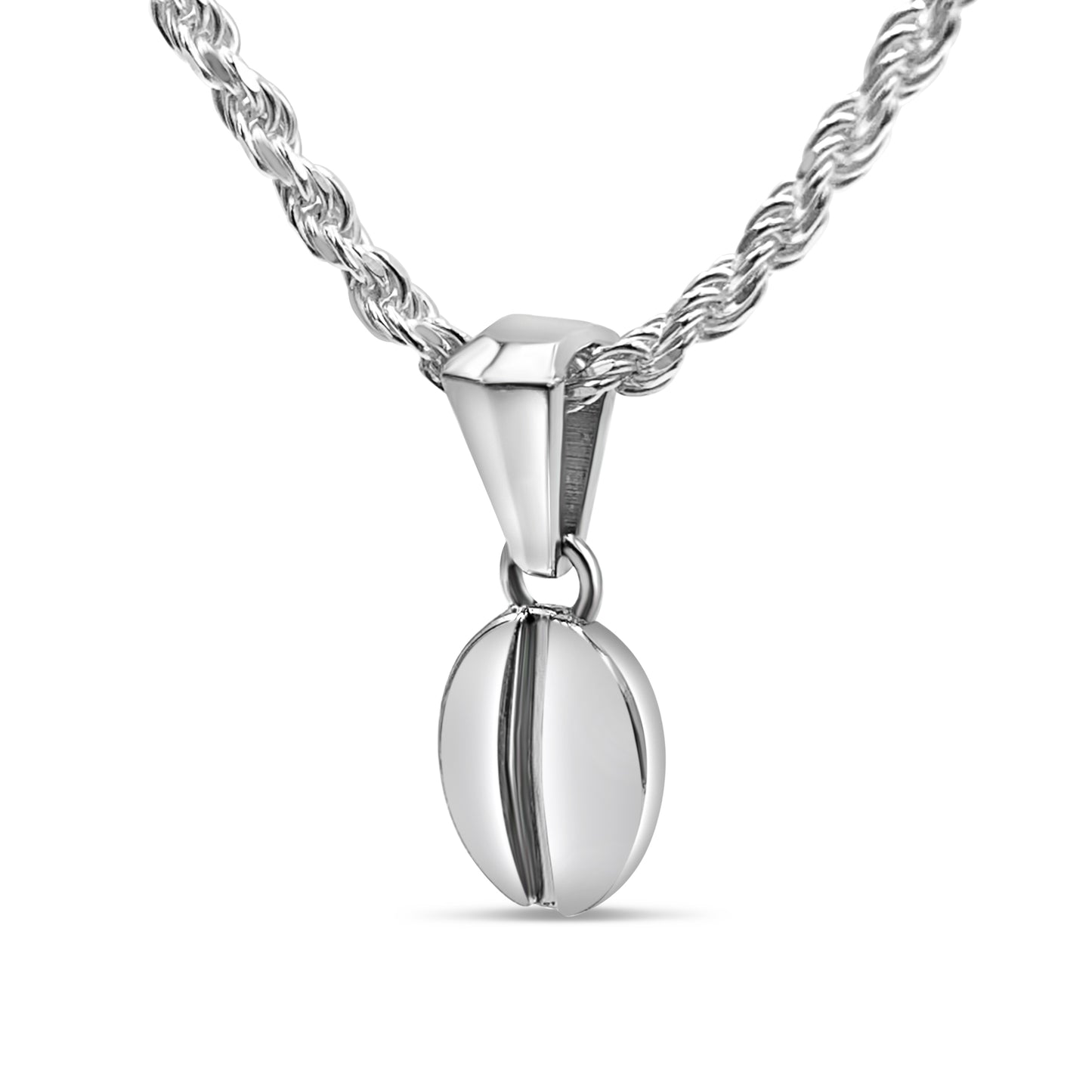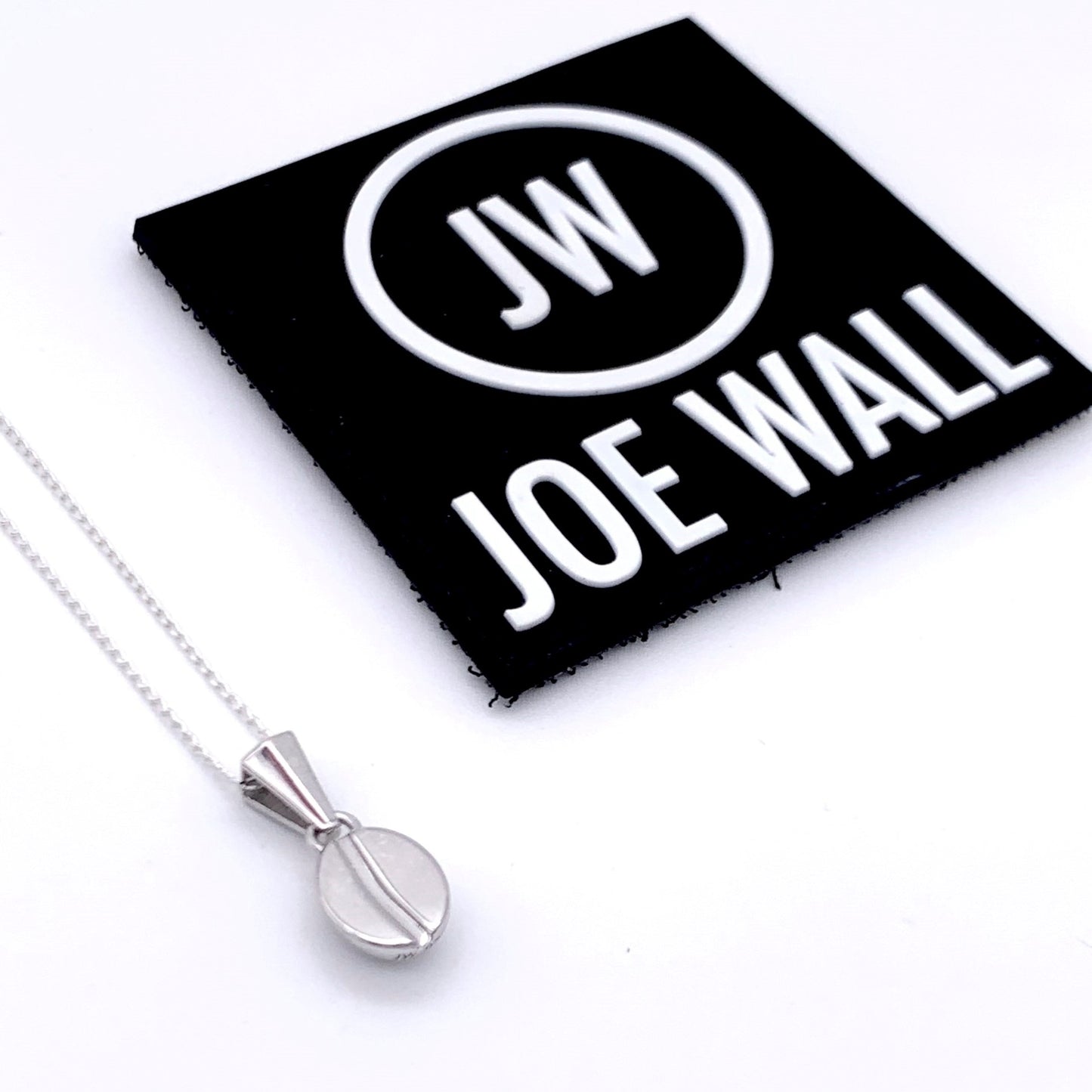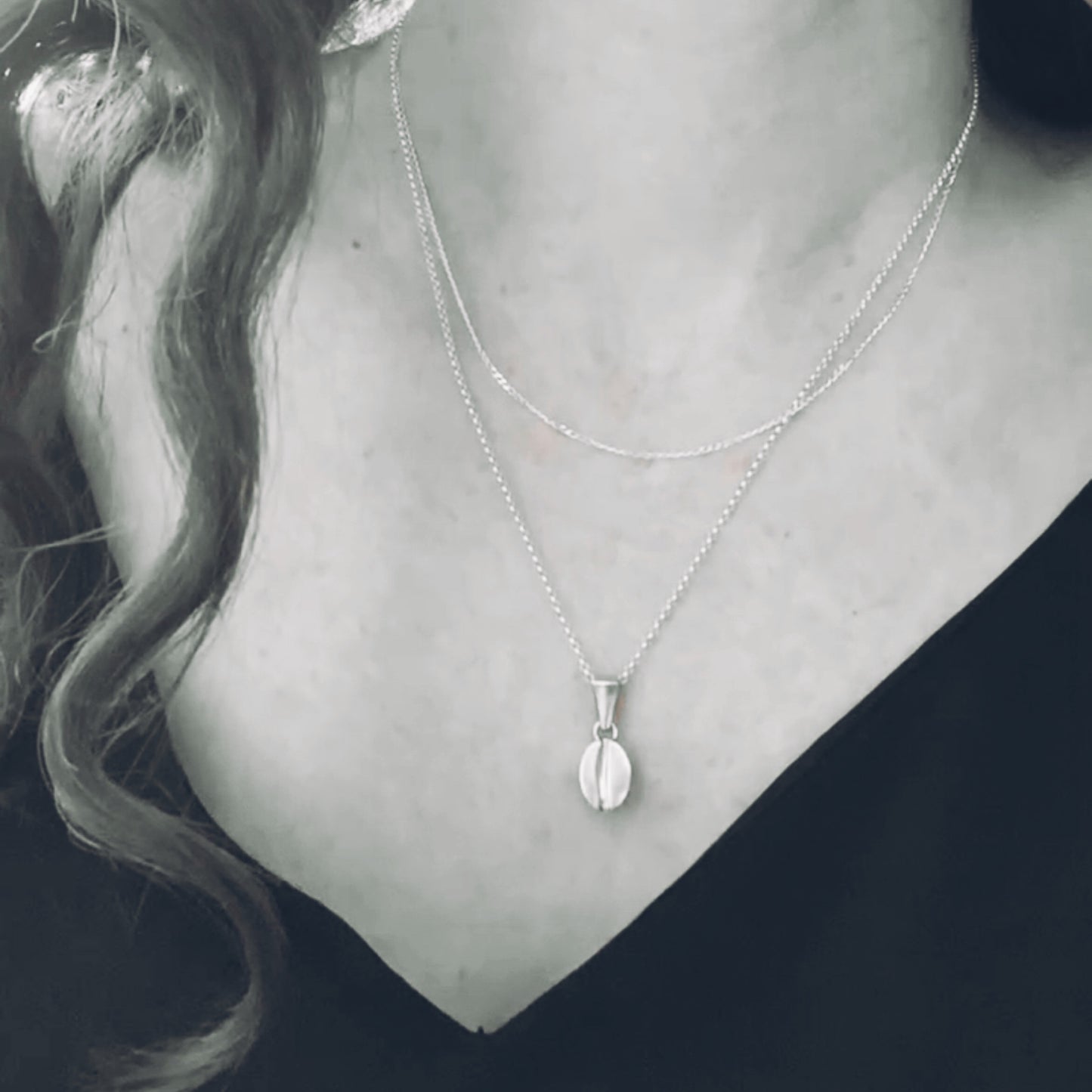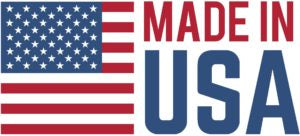 PRODUCT DESCRIPTION
But First…Coffee!

The aroma of that first pot brewing. The warmth of your mug. That first sip. Your senses come alive! We all love it. Some of us can't live without it.

But, have you ever thought about how the world has changed because of coffee and tea? Take a minute to research the topic and you're sure to gain an even deeper appreciation for this amazing little bean. As coffee lovers we wanted something to wear that shows our apprecaittion and love. This silver coffee bean inspiored pendant is about the size of a real coffee bean.
The Joe Wall Experience
WHAT TO EXPECT

You are buying fine jewelry – sterling silver, gold, or platinum jewelry. No gun parts are used in our products.
Joe Wall's designs look so similar to actual gun parts because he is a firearms engineer. Joe's jewelry is designed and crafted using a combination of cutting-edge 3D design software, the latest technology, and years of master craftsmanship experience to bring you high-quality jewelry.  Just as people demand the best out of their firearm so to do they demand the best out of their jewelry.
SHIPPING AND RETURNS

Orders processed within 1-3 Business Days For Your Convenience.


RETURNS

To process a return, contact us through the Contact Us form and we will respond with in 48 hours to discuss resolving your issue.
Return shipping is the responsibility of the customer. 
Item must be returned within 14 days of receipt. 
Money back, store credit, or item exchange (buyer's choice). After JW receives the item returned, a refund will be given. 
The complete item must be returned with its original packaging and in original condition.
RESPONSIBILY SOURCED

Since 2016, we've been crafting our fine jewelry using recycled metals and responsibly sourced diamonds and gemstones.
CARE INSTRUCTIONS

Maintenance

Joe Wall jewelry is designed for daily wear but requires proper care. Protect your jewelry by following these tips. It will help you extend the life span of your jewelry and its ability to be worn for generations to come.

To keep your jewelry looking its best we recommend you buff it with the polishing cloth enclosed in your package after each wear. Store your jewelry away from direct sunlight and ideally somewhere with low humidity to avoid tarnishing the sterling silver. A lined jewelry box or pouch is a good place to store your piece.

Proper Care

Sterling Silver will tarnish. It is a fact of life. Sterling silver jewelry will become tarnished, no matter what you do, it is normal. Once exposed to air, it will react to moisture in the air, causing the tarnishing. Silver also will begin to tarnish faster in areas with high humidity and a larger contrast of air pollution. Chemicals can also speed up the tarnishing process. If your silver jewelry is often exposed to body lotion, perfume, hair spray, deodorant, or bleach, it is very likely that your silver jewelry will tarnish faster than someone who is not exposed to these types of chemicals. It is advised to keep your jewelry away from fruit juices, olives, and vinegar.

If your jewelry piece has tarnished but it is not too severe, it can be buffed out with a special silver cloth, or any nonabrasive cloth. Since silver is such a pliable and soft metal, it is more likely to become scratched than other metals. Avoid polishing your silver with paper towels, tissues, or toilet paper.

When polishing, use long back and forth motions following along with the grain of your silver. If you rub in small circles, you will intensify, or magnify the minuscule scratches on your jewelry. While rubbing in back-and-forth motions, ensure that you move to separate sections of your cloth or you may end up putting the tarnish right back on to your jewelry.

You can use soap and water to clean jewelry too. We recommend a phosphate-free dishwasher liquid like Dawn Dish Soap. Use warm water, a few drops of soap, and a non-abrasive cleaning cloth like microfiber. Joe Wall 925 Sterling Jewelry does have a rhodium coating, you don't want to buff that off. Use the back-and-forth wiping motions to ensure that you move to separate sections of your piece. Once complete, rinse with warm water when you are done and pat dry.
VISIT

If you are in the St. Augustine, FL area, drop us a note and come by for a visit. Locate
YOUR PERSONAL JEWELRY DESIGNER

Don't see what you want? I bring your idea to life using cutting-edge 3D technology that will have you saying WOW. Personalized service for engagement rings, wedding bands, custom jewelry projects, annivereary gifts, and more.